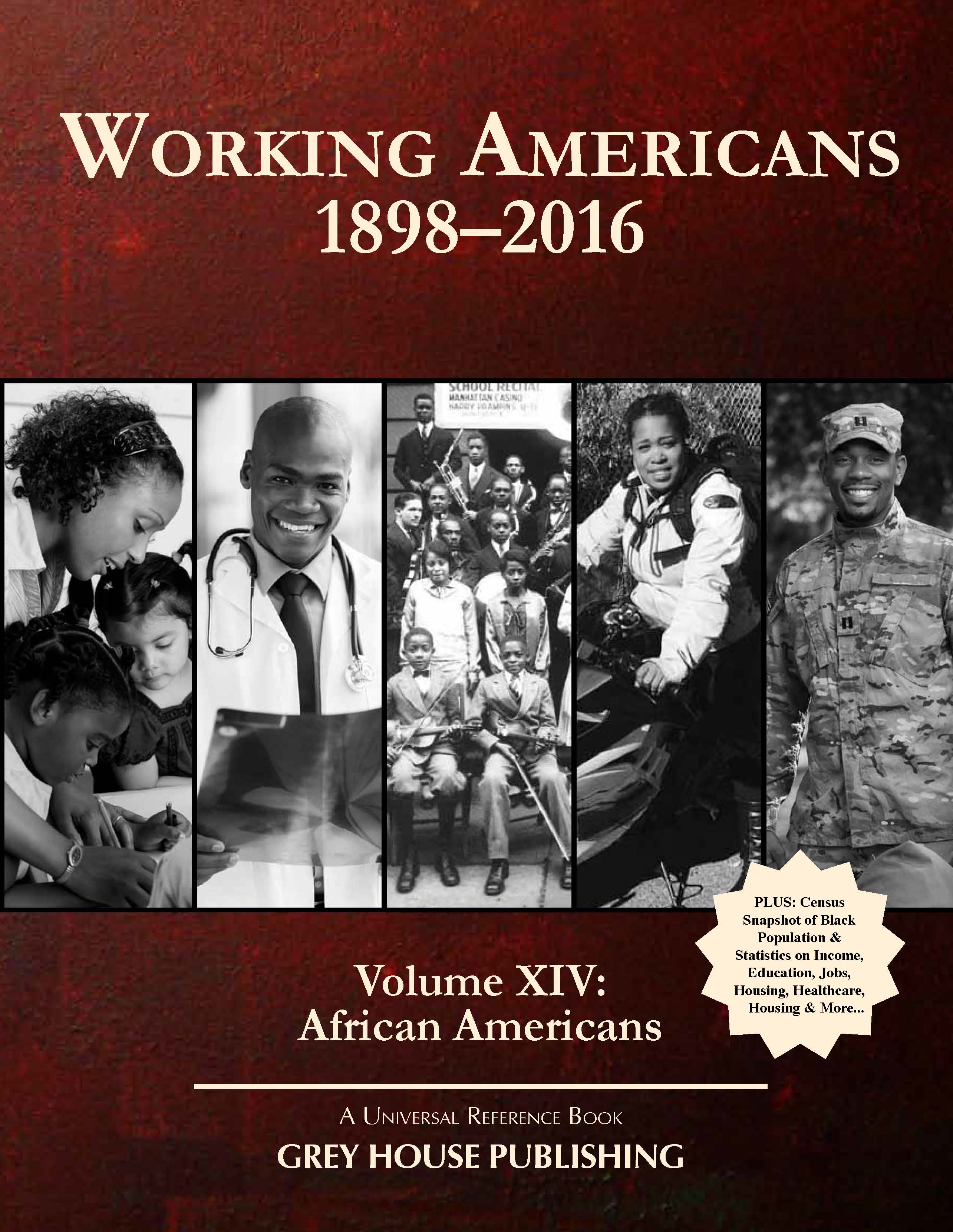 Working Americans 1898-2016
Volume XIV: African Americans
Pub. Date: March 2016
Hardcover: 396 pages
ISBN: 978-1-68217-106-6
Price: $150.00
EBook ISBN: 978-1-68217-107-3 EBook Vendors
Request a

for your library


The African-American struggle and triumph comes to life in these pages, from the Emancipation Proclamation and to racial segregation to the Harlem Renaissance to the Civil Rights Movement to the first African-American president. This volume provides information on what it meant and means to be an African American—from the 1800s to the present day.
This volume is divided into 13 chapters, each covering a decade from 1898 to 2016 and include the following features:
Indiviaul Profiles: Each 12-15 page profile starts with a brief introduction and photography of the subject, then moves to three bulleted sections:
Life at Home - details what life was like in the home of those individuals profiled, with spouses, children, or parents.
Life at Work - details typical workday activities, from office to factory, from performance stage to teacher's desk.
Life in the Community - offers insight into the individual's community, or neighborhood.
The highly readable narrative is supported by hard facts and real -life situations drawn from diaries, private print books, family histories, estate documents, magazine articles and more.
Historical Snapshots: Chronicle major events and milestones, allowing the reader to develop a broader understanding of the time period.
Selected Prices: Examine what things cost during the time period, to further enrich the reader's understanding of how working Americans spent their paychecks. Prices include food items, clothing, jewelry, and so much more.
Primary Sources: Photographs, news clippings, advertisements, postcards, posters, quotes, songs, and cartoons, add interest to each chapter and depth to the reader's understanding of the world that the family or individual lived in. News features are excerpted from the local media. These interesting articles bring to life current issues in society that affected average working Americans.
Following the 30 profiles, the back matter of African Americans includes:
Census Brief statistics of the Black Population - 24 pages of facts, figures, map and charts;
Snapshot of 2016 African Americans statistics in several major categories - jobs, business, education, income, health insurance, families, and more;
Further Reading section;
Detailed Index.
This volume celebrates the contributions of African Americans, chronicling both the progress they have made and the roadblocks they have faced. In a detailed fashion, this content helps the reader reflect on civil liberties, the civil rights movement, and the day-to-day lives of African Americans over the last 118 years.
The Working Americans series has become an important reference for public, academic, and high school libraries. This title will be a welcome addition to all types of reference collections.
---
Print Edition Buyers Receive Free Online Access!
All Working Americans titles come with FREE ONLINE ACCESS on the popular Salem Press platform, http://online.salempress.com. With unlimited users and remote access included, your students and researchers can now search this amazing collection of data, anytime & anywhere.
Additional Volumes:
Working Americans 1880-2012 Volume I: The Working Class, Second Edition
Working Americans 1880-1999 Volume II: The Middle Class
Working Americans 1880-1999 Volume III: The Upper Class
Working Americans 1880-1999 Volume IV: Their Children
Working Americans 1880-2015 Volume V: Americans At War
Working Americans 1880-2015 Volume VI: Women at Work
Working Americans 1880-2016 Volume VII: Social Movements
Working Americans 1880-2007 Volume VIII: Immigrants
Working Americans 1770-1869 Volume IX: From the Revolutionary War to the Civil War
Working Americans 1880-2009 Volume X: Sports & Recration
Working Americans 1880-2010 Volume XI: Inventors & Entrepreneurs
Working Americans 1880-2011 Volume XII: Our History through Music
Working Americans 1880-2012 Volume XIII: Educators & Education
Working Americans 1880-2018 Volume XV: Politics & Politicians
Pub. Date: March 2016
Hardcover: 396 pages
ISBN: 978-1-68217-106-6
Price: $150.00
EBook ISBN: 978-1-68217-107-3 EBook Vendors


Note: If you find this work does not fit your budget, please print out this page and bring it to your local library. There is a reasonable chance they either have a copy, can direct you to a library that does, or will be willing to purchase it for their reference collection.