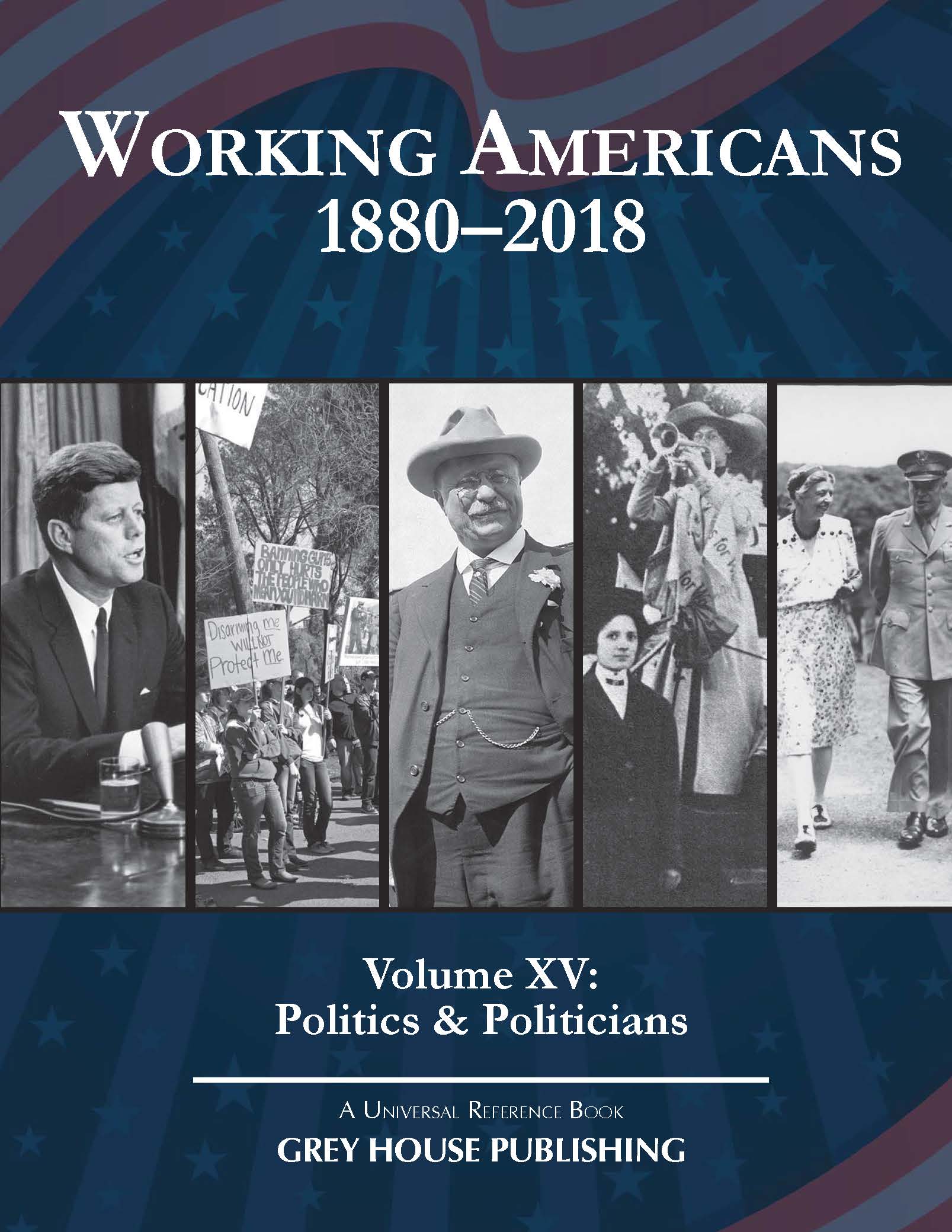 Working Americans 1880-2018
Volume XV: Politics & Politicians
Pub. Date: November 2018
Hardcover: 444 pages
ISBN: 978-1-68217-714-3
Price: $150.00
EBook ISBN: 978-1-68217-715-0 EBook Vendors
Request a

for your library


This first edition of Working Americans: Politics & Politicians 1880-2018 is the 15th volume in the Working Americans series. It profiles 29 Americans whose professions and passions have taken them into the political arena. Like the other volumes in this series, this work spans decades (even centuries), and observes the lives of working Americans of various ages, locations, and social backgrounds. The text is written in an easy-to-read bulleted format, and dozens of images offer strong visuals of political life.
Inclusion is not limited to politicians, or those who work for them. Although not a simple term, two basic definitions of "politics" apply to the actions of those profiled in this work: 1. activities, actions, and policies that are used to gain and hold power in a government or to influence a government; 2. the way that people living in groups make decisions.
This work includes profiles of:
appointed officials (Supreme Court Justice, Secretary of Defense)
elected officials (senator, mayor, congressman, school board member)
those who worked for politicians (press secretary, speech writer, legislative aide)
and those who worked passionately for or against a cause (campaign worker, lobbyist, political hacker or "hacktivist").
Politics & Politicians also profiles Americans whose work is not specifically political, but certainly involves politics, such as a grant writer who secured money for more police officers, a city budget analyst who cut police officer positions, and a political cartoonist.
The front matter of this work includes a number of political reports and surveys that discuss the design and structure of today's government, the need for change, and partisan and bipartisan comments about the current system. Each 12-15 page profile starts with a brief introduction and photograph of the subject, then moves to three bulleted sections.
Life at Home details what life was like for these individuals regarding spouses, children, or parents. It might include what their house looked like, a typical dinner, their daily routine, and how they dressed.
Life at Work details typical workday activities. It includes work environments, attitudes, and relationships with co-workers.
Life in the Community offers insight into the individual's neighborhood, often with some geographical and social history, as well as a sense of the area's economy and recreational opportunities.
Profiles also include:
Historical Snapshots chronicle major events and milestones, allowing the reader to develop a broader understanding of the period.
News Features are excerpted from the local media; these thought-provoking articles put the issues affecting the individual in context.
Selected Prices examine what things cost during the time period, to further enrich the reader's understanding of their cost of living, family finances, and budgets. Prices include food items, clothing, jewelry, tickets for leisure activities and so much more.
Illustrations include photographs, news clippings, advertisements, postcards, posters, quotes, songs, and cartoons add interest to each chapter and depth to the reader's understanding of the world that the individual or family lived in.
Following the profiles, the back matter includes a Presidential Timeline, Glossary of Political Terms, Further Reading, and Index.
The Working Americans series has become an important reference for public libraries, academic libraries, and high school libraries. These volumes will enrich the reader's understanding of American history, through the eyes of its people, and will be a welcome addition to all types of reference collections.
---
Buyers of the print edition of this text get FREE ONLINE ACCESS on the Salem Press Platform. Online access allows users to explore all the data each volume of Working Americans has to offer, in one easy-to-use online format.
Additional Volumes:
Working Americans 1880-2012 Volume I: The Working Class, Second Edition
Working Americans 1880-1999 Volume II: The Middle Class
Working Americans 1880-1999 Volume III: The Upper Class
Working Americans 1880-1999 Volume IV: Their Children
Working Americans 1880-2015 Volume V: Americans At War
Working Americans 1880-2015 Volume VI: Women at Work
Working Americans 1880-2016 Volume VII: Social Movements
Working Americans 1880-2007 Volume VIII: Immigrants
Working Americans 1770-1869 Volume IX: From the Revolutionary War to the Civil War
Working Americans 1880-2009 Volume X: Sports & Recration
Working Americans 1880-2010 Volume XI: Inventors & Entrepreneurs
Working Americans 1880-2011 Volume XII: Our History through Music
Working Americans 1880-2012 Volume XIII: Educators & Education
Working Americans 1880-2016 Volume XIV: African Americans
Pub. Date: November 2018
Hardcover: 444 pages
ISBN: 978-1-68217-174-3
Price: $150.00
EBook ISBN: 978-1-68217-715-0 EBook Vendors


Note: If you find this work does not fit your budget, please print out this page and bring it to your local library. There is a reasonable chance they either have a copy, can direct you to a library that does, or will be willing to purchase it for their reference collection.